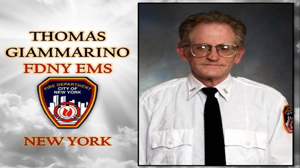 Thomas Giammarino
FDNY-EMS
New York, New York
Before being promoted to the rank of EMS Lieutenant, "Tommy G" – as friends and co-workers knew him – was a member of the New York City Emergency Medical Service's elite Special Operations Division. The unit was responsible for Haz-Mat response, specialized rescue, and scene support at MCIs.
"He had a great sense of humor and nothing ever seemed to faze him". Tommy could always be relied upon to get things done in even the most chaotic environments. He was found at many scenes with his signature box of pretzel rods, which he was always willing to share.
On the morning of 9/11 Tommy responded to the attacks on the World Trade Center and spent countless hours on the pile at ground zero searching for his fallen co-workers unaware that his efforts and exposure would be fatal.
Tommy continued as a Lieutenant, working in Brooklyn's Station 31 until he was too ill to continue working. He succumbed to illness on October 7, 2014.
Honored 2016